---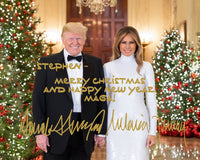 This item is for one high-quality printed 8"x10" official White Christmas House photo with Donald and Melania Trump.  A Fun customizable autograph from President Donald Trump in Donald Trump's own notorious handwriting in gold.

Please enter the custom message AFTER adding item to the shopping cart. 
As you are checking out you will see a box in the bottom of the check out cart labeled: 
Example: "Hi Stephen, Let's Make America Great Again!" - Donald Trump

For clarification, these are NOT authentic autographs, however it is President Trump's signature and his unique handwriting. The signatures and personalizations are pre-printed on the photos and this product is intended for entertainment purposes only. There is no limit to the type of message or the amount of characters requested, but keep in mind the more text there is, the smaller the print will be on the photo and does not include frame. Orders are processed within 24 hours.