---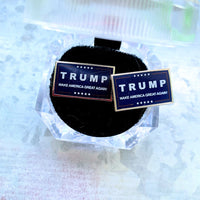 These aren't just cufflinks; they're a refined way to demonstrate your unwavering commitment to the Trump vision.
Subtle Elegance, Bold Statement At a sleek 3/4 inch size, these cufflinks are both understated and impactful. The iconic 'Make America Great Again' slogan pops against the serene blue backdrop, ensuring your political pride is noticeable yet sophisticated.
Seamless Integration into Every Ensemble Crafted to perfection, these cufflinks flawlessly complement both business and formal attire. Whether it's a board meeting or a gala, you can wear your support on your sleeves with panache.